Adopted by a pair of diehard hippies, restless, marginal Jude Keffy-Horn spends much of his youth getting high with his best friend Teddy in their bucolic and deeply numbing Vermont town. But when Teddy dies of an overdose on the last day of 1987, Jude's relationship with drugs and with his parents devolves to new extremes. Sent to live with his pot-dealing father in the East Village, Jude stumbles upon straight edge, an underground youth culture powered by the paradoxical aggression of hardcore punk and a righteous intolerance for drugs, meat, and sex. With Teddy's half-brother Johnny and their new friend Eliza, Jude tries to honor Teddy's memory through his militantly clean lifestyle. But his addiction to straight edge has its own dangerous consequences. While these teenagers battle to discover themselves, their parents struggle with this new generation's radical reinterpretation of sex, drugs, and rock 'n' roll and their grown-up awareness of nature and nurture, brotherhood and loss.
Moving back and forth between Vermont and New York City, Ten Thousand Saints is an emphatically observed story of a frayed tangle of family members, brought painfully together by a death, then carried along in anticipation of new and unexpected life. With empathy and masterful skill, Eleanor Henderson has conjured a rich portrait of the modern age and the struggles that unite and divide generations.
Published by Ecco Books in 2011, Ten Thousand Saints is also available from Quercus in the UK, Sonatine in France, and Rizzoli in Italy, with publication forthcoming in Brazil.
Order
Praise
"Henderson does not hold back once: she writes the hell out of every moment, every scene, every perspective, every fleeting impression, every impulse and desire."
—Stacey D'Erasmo, New York Times Book Review
"Ten Thousand Saints is a whirling dervish of a first novel—a planet, a universe, a trip."
—Los Angeles Times

"[A] rare debut that, with a flinty kind of nostalgia, invokes both the gods and demons of a generation."
—Vogue
"Eleanor Henderson's debut novel bursts out of the gate with all of the drive and sensory assault of the punk music that infuses it…an auspicious debut."
—Boston Globe
"Ten Thousand Saints is the offspring of Lester Bangs and Anne Tyler, and who wouldn't want to read that baby?"
—Nick Hornby, The Believer
"Rarely has a debut novel captured a time and place…with such perfect pitch. Grade: A."
—Entertainment Weekly
"Eleanor Henderson is in possession of an enormous talent which she has matched up with skill, ambition, and a fierce imagination. The resulting novel, Ten Thousand Saints, is the best thing I've read in a long time."
—Ann Patchett, author of Commonwealth
"I loved Ten Thousand Saints; again and again I was stopped cold by beautiful chapter-ending sentences. I remember this Manhattan, the Sunday matinees at CB's, the rage over Yuppies colonizing the East Village. "
—Dean Wareham, lead singer of Galaxie 500 and Luna, author of Black Postcards

"Ten Thousand Saints is funny, touching, artistic, surprising, lovely, eye-opening, and very, very wise."
—Arthur Phillips, author of The Tragedy of Arthur
THE MOVIE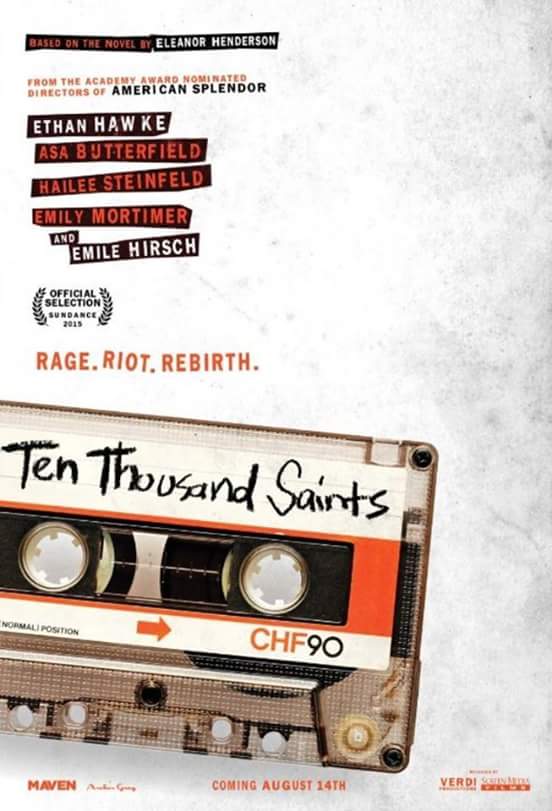 Adapted for the screen and directed by Shari Springer Berman and Robert Pulcini (the team nominated for Best Adapted Screenplay for American Splendor), 10,000 Saints was released in 2015. The cast includes Asa Butterfield as Jude, Hailee Steinfeld as Eliza, Ethan Hawke as Les, Julianne Nicholson as Harriet, Emily Mortimer as Diane, Emile Hirsch as Johnny, and Avian Jogia as Teddy. Read more about the cast and crew at IMDB, and watch Eleanor talk to AOL Build with Bob and Shari about the story behind the scenes.
Produced by Archer Gray and Maven Pictures, the film was shot almost entirely over 27 frigid days in and around New York City in early 2014. It premiered the next year at the Sundance Film Festival in Park City, Utah, where it was acquired by Screen Media Films.
If you look closely at the final scene, you can spot Eleanor with her family in Tompkins Square Park.
"If you are one of those people who romanticize the East Village in New York when it was at its grungiest, 'Ten Thousand Saints' might be the movie of your dreams. Even if you're not, it's still a very fine film, full of quietly impressive performances."
—New York Times
Save