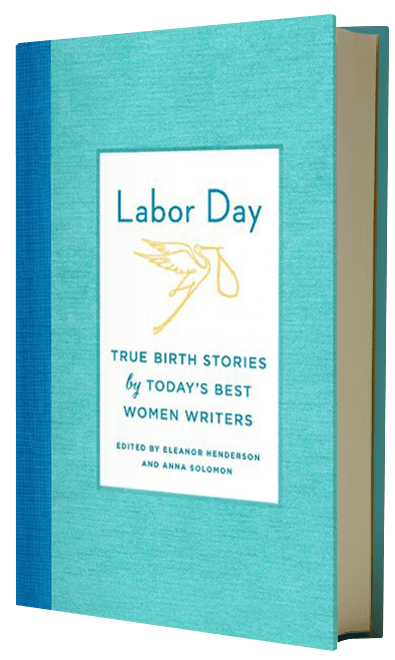 THIRTY ARTFUL, UNVARNISHED, HILARIOUS, HARROWING, TOTALLY TRUE TALES FROM TODAY'S BEST WOMEN WRITERS
It's an elemental, almost animalistic urge—the expectant mother's hunger for birth narratives. Bookstores are filled with month-by-month pregnancy manuals, but the shelves are virtually empty of artful, entertaining, unvarnished accounts of labor and delivery—the stories that new parents need most.
Labor Day transcends the limits of how-to guides and honors the act of childbirth in the twenty-first century. Novelists Eleanor Henderson and Anna Solomon, co-editors and also contributors, have gathered thirty luminous essays by women who have made self-expression their business, including Julia Glass, Lauren Groff, Cristina Henríquez, Danzy Senna, Dani Shapiro, Cheryl Strayed, and many others, all in a beautiful cloth-bound volume published by Farrar, Straus and Giroux.
Order
Reviews
"Labor Day belongs on the nightstand next to What to Expect When You're Expecting. It's a must-have book for mothers, mothers-to-be, and anyone who cares about what birth looks like today."
—Molly Ringwald, Actor, Singer, Mother, Author of When It Happens to You
"One of the most important preparations for labor is reading actual stories from actual women in labor. Labor Day provides a tremendously varied, honest, and beautiful set of stories to learn from and grow with, no matter where you are in your parenting journey."
—Mayim Bialik, Ph.D., Actress, Neuroscientist, Mother
"In delivery rooms, in the backseats of cars, and at home, these women tell their birth stories so clearly that they must have had stenographers present on the scene. I loved reading this book with my baby asleep in the next room, and will give it to every pregnant woman I know from here on out, forever."
—Emma Straub, Author of Modern Lovers
"I read Labor Day like the way I ate my first meal after giving birth: I knew I loved labor stories, but I didn't know I was absolutely starving for them. Ravenous. And they satisfied me; they filled me with wonder and tears and quite a few laugh-out-loud guffaws. And mostly with gratitude that real women shared their real experiences so that all of us can re-experience the wild joy and terror and beauty of giving birth."
—Elizabeth Lesser, Former Midwife, Co-founder of Omega Institute,
and Author of Broken Open: How Difficult Times Can Help Us Grow
"Labor Day is such a gift. I've probably read or heard hundreds of birth stories, but once I picked up Labor Day, I could not put it down. Each fascinating detail, from the banal to the exalted, gives a glimpse of just what can happen when a baby is born."
—Catherine Taylor, Former Doula, Founder of Essay Press, and Author of Giving Birth: A Journey Into the World of Mothers and Midwives